Cypress Sunadaya starts production with the first Ledinek CLT production line in Japan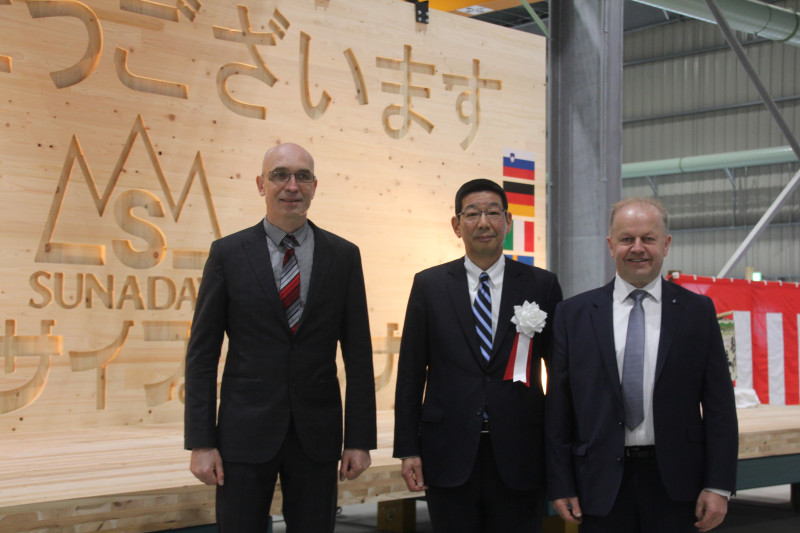 The Japanese wood building materials supplier Sunadaya, situated in Ehime Prefecture, Shikoku officially opened their new manufacturing facilities with a CLT production line just outside the city of Saijo.
Ledinek is proud to be a part of their new investment in engineered timber technology which is contributing to the ehancement of the Japanese wood processing industry and exploatation of their own raw material.
After a finger jointing line with Kontizink M in 2016, Ledinek supplied to Sunadaya the entire CLT line including the X Press 12 press, the Kontizink MH-S120 finger jointing machine, the Rotoles 300 SV-KS 200 planer with the belonging mechanization including the X-cut S350 saw.
The delivery of equipment which was packed in 38 containers  began in autumn 2017 and was followed by mechanical and electrical assembly at the beginning of  2018. After programming works, the start up phase with testing and training of operators began and was successfully completed by a performance test taken end of February 2018.
---
Among the guests at the openeing ceremony on March 15, which was broadcasted by a national television were  reperesentatives from the Ministry of Agriculture and local politics, representatives of the Japanese wood processing industry as well as CEOs from the suppliers of equipment. In his speech addressed to Mr, Sunada the owner and the General Manager of Sunadaya, Gregor Ledinek, Ledinek Engineering d.o.o. as the only Europen speaker at the ceremony, stressed the importance of this ambitious project for Sunadaya and for the Japanese and international woodworking and construction industry: »It is also a big movement for a new CLT technology and a large step for all the suppliers who participated in the entire project including us, the company Ledinek«. He considered the wood as one of the re-invented materials of the 21st century giving us« the necessary strength and warmth«. At the end Mr.  Ledinek thanked Mr. Sunada and his family for their ambitious and hard work and for their proven trust.
---
We wish Sunadaya a lot of success with their new investment and a lot of creative energy for the future. In this palce we would also like to thank our Japanese partner Hiroishi for their work and good cooperation as well as all Ledinek colleagues who participated in  the successful implementation of the project.