Standard CLT production facility in Portugal
The company Arolla Lda invested in a plant for the production of standard CLT elements with widths of 120 and 125 cm and produces mainly for its own projects and for the local market. Arolla specializes in the construction of ready-to-move solid wood buildings, the implementation of the projects is supported by the integrated architecture and engineering office. The raw material required is supplied by local sawmills, but also imported from Europe.
The production facility was integrated into an existing building in the Setubal industrial area. The hall with an area of a little more than 11.000 m² was modernized within a very short time and adapted to the specified production conditions. The format of the cross laminated timber elements is optimized to a maximum of 16 m x 1.25 m x 0.6 m. A CNC machining center is also installed in the fully automated production process in order to process finished pressed and pre-profiled CLT elements. This first turnkey CLT line in Portugal specializes in the production of high quality CLT with visible surfaces.
The entire CLT production system is controlled and monitored by the X-Lam Manager developed by Ledinek. The X-Lam Manager offers a PC-based host computer system for production management, production flow control and visualization, statistics, instant information and tools for production analysis
Company:         Arolla Lda, 1200-203 Lisboa 
Facebook:         Arolla Facebook

Production site: Mojidad – Parque Logistico / Setubal / Portugal
Project management: Dr. Gerd Jakob, DI Hans-Georg Unterrainer, DI Richard Santner
Production staff: 20
Wood species: Pine, Spruce, Larch
Machine operator: 6 + 2
Production capacity: 50.000 m³ / Year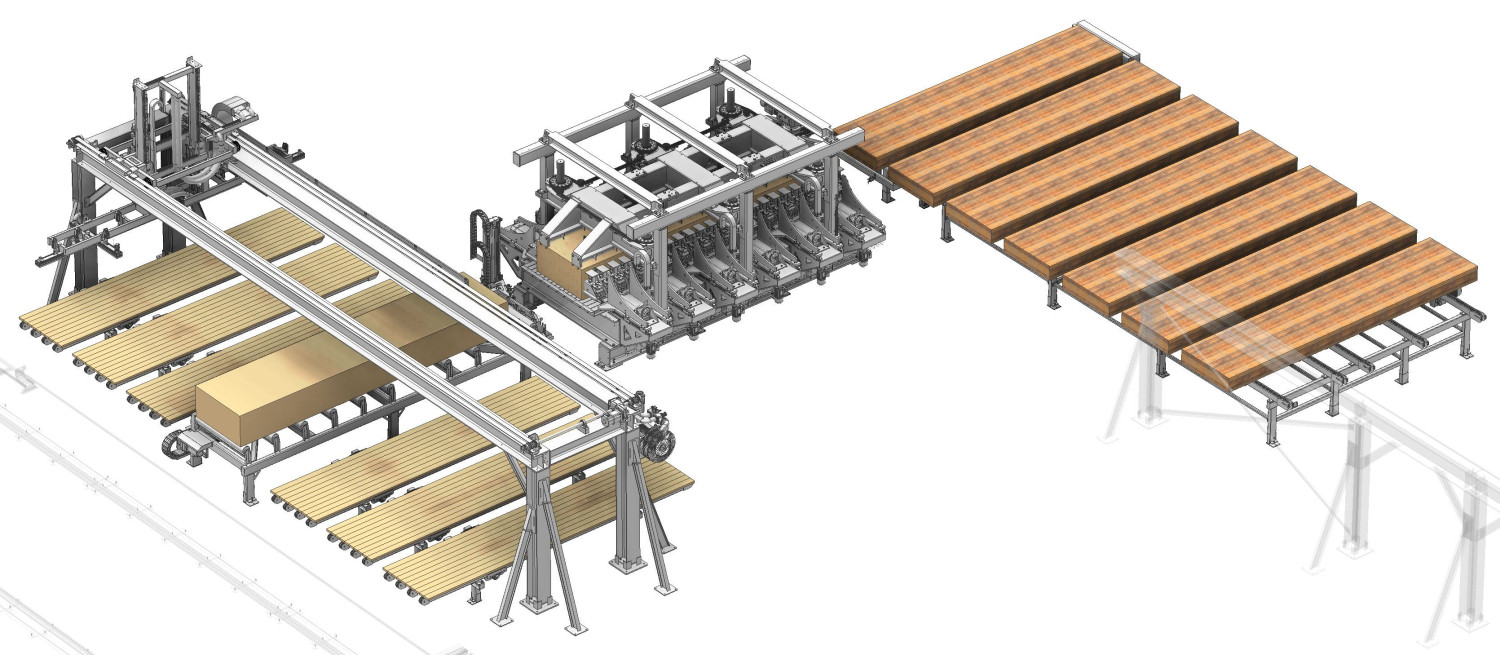 Turnkey CLT production
Tilt hoist for de-stacking of timber
Infeed to MULTIPLAN 4V-S200 pre-planer for high speed and perfect finish
Hot-melt edge gluing Z-PRESS for fast assembly bonding of solid wood laminations.
Multiple saw unit for cutting the edge-glued panels into several cross layers
Vacuum layer assembly unit for Cross and Longitudinal Layers with 90° rotation
Distribution shuttle to load 2 x 6 buffer spaces
Buffer places for cross layers and longitudinal layers in different qualities and strengths
Distribution shuttle to load 2 x 3 production buffer locations
Vacuum stacker for the longitudinal and cross layers
XM-Press with PUR glue application. Maximum press dimension 6m length, 2m width and 0.6m press height
Buffer spaces for additional curing after the press cycle
Vacuum stacking device for transporting raw CLT panels
SUPERLES 1300 6V + 4F Premium high-performance wide planer with an innovative tool system and double sanding unit
Mechanization with gentle panel turning station
Gluing of the large finger joint with press for the joint to produce multiple lengths of up to 16 m
Crosscut saw with adjustable stop
Facts
Up to 16 m x 1,25 m x 0,6 m panel size
Production capacity up to 50.000 m³/year
100 m³ Shift production
Z-Press for innovative, safe and reliable production

PUR 1K glue with cold setting
High flexibility of the CLT production process
---