Tools & more
Only the best tool can produce the best surface.
We provide all necessary tools for our machines. Either from our own production or from world best tooling suppliers.
And of course we also provide all necessary auxiliary equipment for easy tooling, transport and maintenance.
Originally equipped with Kanefusa ST-1:
Our straight cutter heads for solid wood are equipped with Kanefusa ST-1 Revo knives
Less power consumption

Longer cutting life
Better surface finish
New coating
---
LEDINEK exchangeable shafts
Exchangeable shaft system enables very short set-up periods. The shafts can be driven out of the machine by a motorized drive, and are together with their bearings easily exchangeable.


---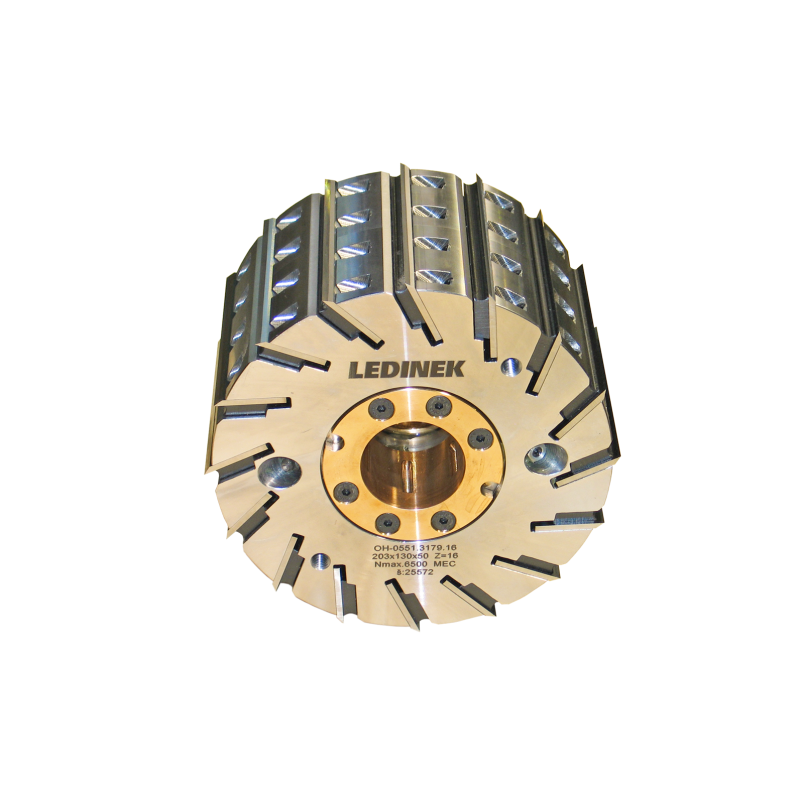 Hydro cutterheads

Cutterheads in various sizes, suitable for our wide range of planers and moulders.
Why use an original LEDINEK hydro cutterhead:
A bronze hydro bushing is softer than the hard chromed steel spindle. This ensures a smooth mounting and prevents damage to the spindle even in case of slip.
---
Tool sets for splitting with eased edge

Different tools can be included, depending on type of machine and number of spindles.
Possible tools:
bottom radius cutters (right/left) and
top radius cutters (right/left) or

radius cutters (right/left) for fixed height or
variable radius cutters (right/left)
groove cutter with radius (top)
saw set with radius cutter





---
Sawblades and sawblade sets
We equip our machines with products from best and acknowledges suppliers of tools to ensure best quality and productivity of our machines.




---
ROTOLES tool holders
Original tool holders will ensure best accuracy and surface quality of the ROTOLES machine.




---
Tool cranes
are essential equipment for easy and safe manipulation of tools on the planers. We supply a range of cranes of different loading capacities, customized for the specifications of our planers and moulders.




---
Tool trollies
are used for safe transport of tools between planer and grinding room. Custom tool trollies are adapted to the deimensions of individual tools and are especially important for manipulation of exchangeable cuttershafts.




---
Setting rings for knives
These setting rings are used for setting of knives in the tools of wide planers. They can be used on single long knives or on divided knives of long cutterheads. 2 or 3 rings are necessary, depending on the length to be set.

---
Setting device for planer blades
High speed cutterheads require a large amount of blades to be inserted in the block in order to produce a fine surface. This device enables an easy and fast setting of the entire cutterhead. The operation is easy and requires little skill of the operator.


---
Ultrasonic cleaning device
Cleaning device with immersion reservoir, motorized drive for rotation of tools and an ultrasonic generator.
With use of attachments and adaptors, many different woodworking tools can be cleaned.


---