CLT production line in Japan NextGen

First complete CLT production from one supplier in Japan at Cypress Sunadaya Co., Ltd. The line just recently went into the production stage and will shortly start to supply the domestic market with CLT panels. We got the opportunity to supply a complete CLT production Turnkey solution.
Different adhesive types, finger jointing orientations, buffering systems, edge glue presses or other unique features of your CLT production line can be selected. On top we can integrate all machines under our specially developed X-Lam manager PC based control system with visualisation capabilities, production flow steering, statistics and production analysis capabilities. Let us know your requested CLT production figures and we will prepare for you a custom made budget offer with layout adapted to your building. Turn key solutions for complete CLT production lines from one hand.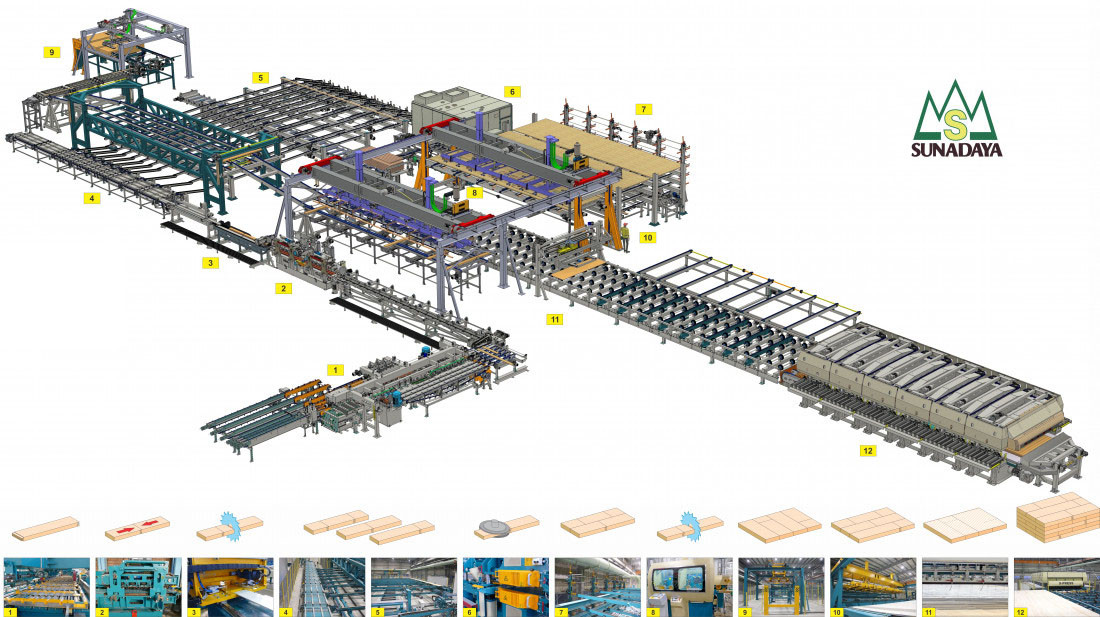 Showcase Sunadaya Japan
Complete CLT production factory
Kontizink MH120-60 kN-S120 finger jointing line with capacity up to 120 pcs/min; 120 m/min
Patented continuously operating chain press
Flying cross-cut saw with capacity up to 15 cuts/min
Pull off with dog strips and aligning roll track
Glue curing storage
ROTOLES 300 4V – KS 200 calibrating milling planer
3-storey storage for long lamellas
X-CUT S350 a heavy duty powerful cross-cut saw
Vacuum device with horizontal and vertical stroke
Double vacuum stacking machine for preparation of packages before pressing 12m
CLT glue applicator
X-PRESS 12 - Patented CLT press
Facts
Up to 12 m x 3,05 m x 0,36 m panel size
Up to 22.500 m³/year
45 m³ Shift production
High flexibility of production
---