Complete CLT production line for S.A.S. Piveteau Bois in France

S.A.S. Piveteau Bois from Sainte Florence has invested in a new industrial production for large format cross laminated timber panels. The line is in commissioning stage and will shortly start to supply the domestic market with high quality CLT panels. Company Ledinek got the opportunity to supply a complete Turnkey CLT production.
All machines are interfaced with the new developed X-Lam manager by Ledinek, a PC based master computer system for  production management, production flow control and visualization, statistics, instant information's and production analysis tools.
A new Turn-key solution for a CLT production out of one hand.
Company: S.A.S. Piveteau Bois
Location: Sainte Florence / France
Executive Director: Jean Piveteau
Employees: 1000
Species: Douglas pine and spruce
Production capacity: 70,000 m³ / y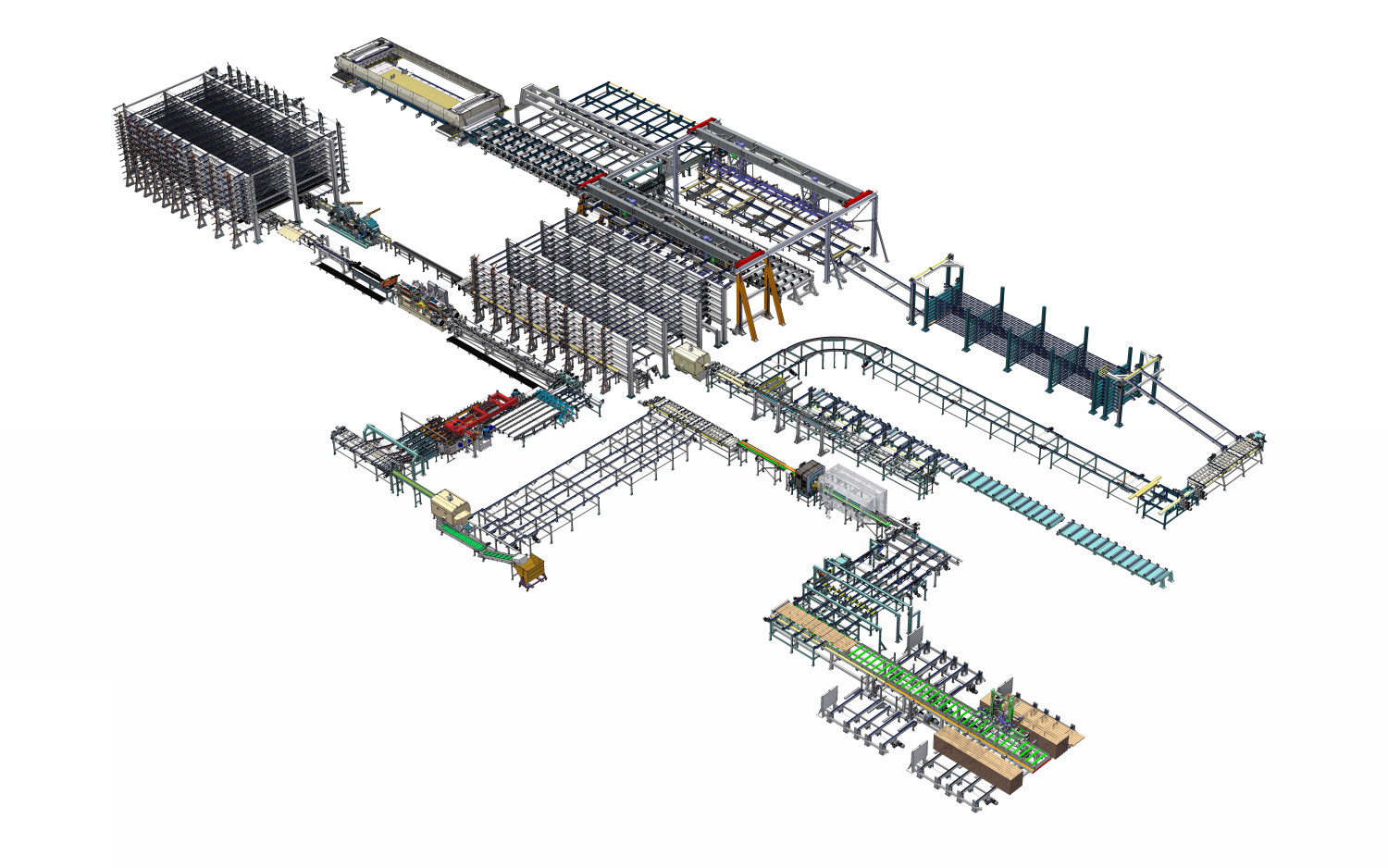 Turnkey CLT production
Vacuum de-stacking of 4 different timber qualities
Moisture meter, reject gate
Scanner

X-CUT cross-cut saw to remove timber defects
Infeed system to finger jointing machine
KONTIZINK L-S120 finger jointing line with capacity up to 80 pcs/min; 120 m/min
Multi tray curing storage with lug chains
SUPERPLAN 6VR-S300 planer for laminations for high speed and perfect finish
Multi tray storage for longitudinal laminations
X-CUT cross-cut saw for cross laminations
In-feed to Multi tray storage for cross laminations
Edge gluing device for cross layers

Multi tray storage (6 trays) for cross laminations
Vakuum layer assembly unit
CNC controlled PUR (1 component polyurethane) glue application unit
Solid fast movable PE coated table for billet assembly
X-PRESS 16 - cross laminated timber press with up to 0,8 N/mm² pressure
Transverse CLT panel push off unit
CLT Line Layout
CLT Line Layout
Facts
Up to 16 m x 3,6 m x 0,36 m panel size
Production capacity up to 70.000 m³/year
100 m³ Shift production
Highly flexibility of the production
---