CLT production plant for Element 5 in Ontario Canada
Element5 has invested in a large-scale facility to expand its mass timber production capacity. The company's new facility will produce CLT panels and glulam beams in a range of sizes, offering the market a versatile selection of mass timber products.
The production line is being installed in a new facility on a greenfield site strategically located at the midpoint between Toronto and Detroit. The line integrates the newly developed Z-Press to produce superior edge-glued panels. The maximum size of the CLT panels the factory will produce is 16 m x 3,5 m x 0,36 m. The panels have the option to be sanded on both sides for an enhanced visual finish. The facility also is equipped with wood conditioning capabilities and a state-of-the-art CNC router to machine the ready pressed and sanded CLT elements. This will be the first complete turnkey CLT line delivered to North America.
The entire line is integrated under the X-Lam Manager, a PC-based master computer system developed by Ledinek Engineering that provides production management, production flow control and visualization, statistics, real-time information and production analysis tools.
Company: Element 5
Location: Ontario / Canada
CEO: Patrick Poulin
Project Leader: Chris Latour
Employees: 50
Species: Spruce
Operators: 5+2
Production capacity: 40,000 m³ / y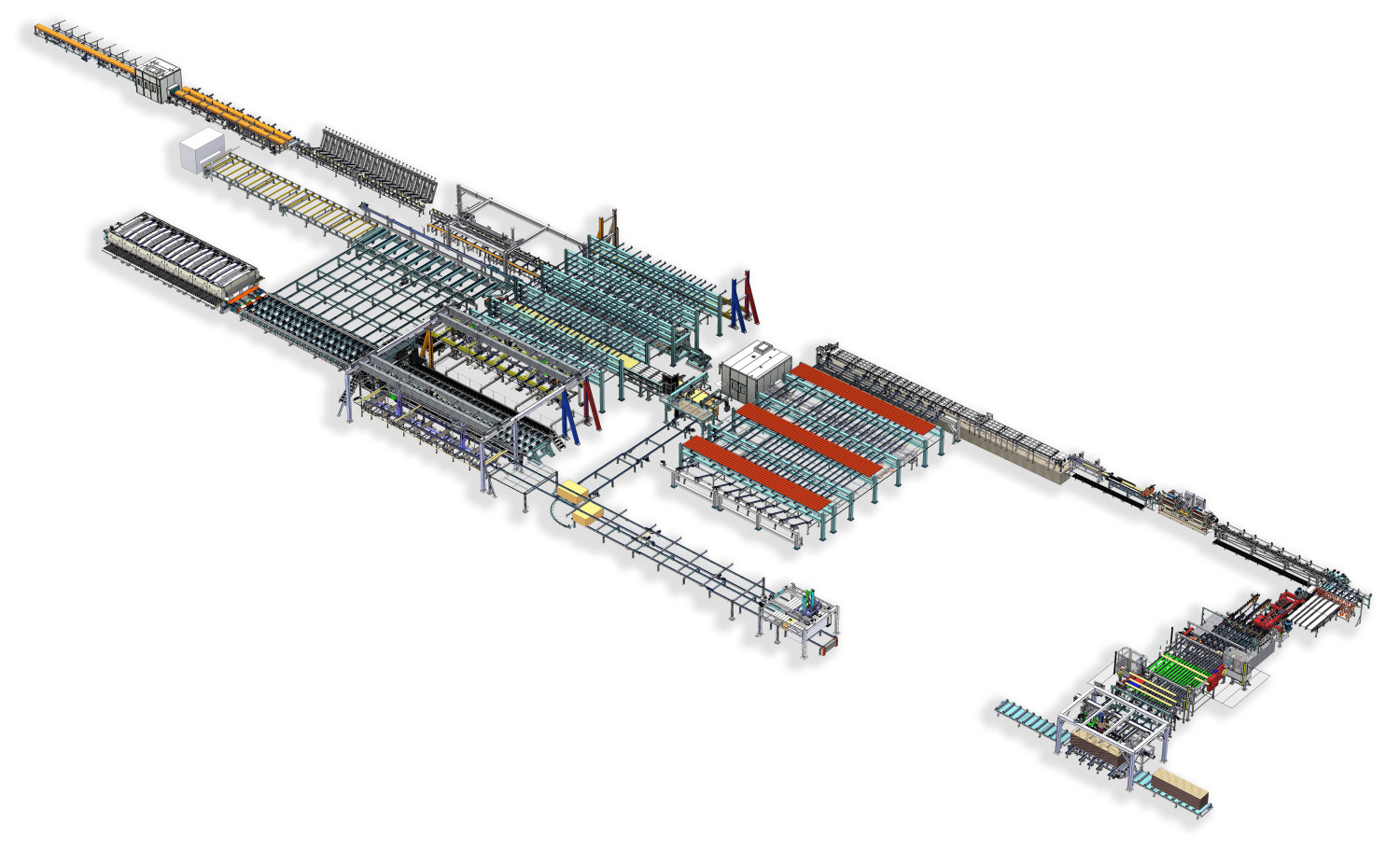 Turnkey CLT production
1. Vacuum de-stacking of 2 different timber qualities
2. Moisture meter with reject gate
3. Cross cut saws to remove timber defects at the board ends
4. Infeed system to finger jointing machine
5. KONTIZINK L-S120 finger jointing line with capacity up to 80 pcs/min; 120 m/min
6. Multi tray curing storage for the fresh finger joints
7. Infeed to the SUPERPLAN 4V-S350 planer for laminations, high speed and perfect finish
8. Hot-melt edge gluing Z-PRESS for fast assembly bonding of solid wood laminations.
9. Multi tray storage for longitudinal laminations
10. Cross-cut saw for cross lamination panels
11. Stacker for cross layer panels
12. Buffer for cross layer packages
13. Vacuum de-stacking for cross layers
14. Vacuum layer assembly unit for Longitudinal Layer
15. Vacuum layer assembly unit for Cross Layer
16. CNC controlled PUR (1 component polyurethane) glue application unit OEST
17. Solid fast movable PE coated aluminium table for CLT panel assembly
18. X-PRESS 16 - cross laminated timber press with up to 0,8 N/mm² pressure
19. X-PRESS 16 m x 3,5 m x 0,36 m
20. Longitudinal CLT panel push off unit with outfeed conveyor
21. Surface sanding machine IMEAS 3.200 mm wide
22. Glulam press up to 16 m long
23. EUROPLAN 600 4V beam planer 4 side + 4 chamfering units 600 x 300 mm
24. CNC joinery machine
Facts
Up to 16 m x 3,5 m x 0,36 m panel size
Production capacity up to 40.000 m³/year
80 m³ Shift production
PUR glue used for higher capacity
High flexibility of the CLT production process
Totall installed power: app. 2.000 kW
Dust extraction capacity app. 100.000 m³/h
Recommended hall: 200 m x 44 m x 9 m

---