Pilot CLT production facility for Södra in Väröbacka
Company Södra Wood invested into a pilot plant for CLT production. The idea behind the pilot plant is to explore the different possibilities of the product and create a marketing and production strategy. As Södra operates their own saw mills the utilisation of different timber sizes and grades is also crucial.
The line has been placed in an available building on Södras industrial area (Saw mill & Pulp mill), which was completely renewed and upgraded. The size of the CLT panels is limited to 12 m x 3,0 m x 0,36 m. In the same building is installed also a CNC router to machine the ready pressed CLT elements. This is the first complete Turnkey CLT Line delivered to Sweden. After commissioning is completed the plant goes into test production.
The complete line is integrated under the X-Lam manager developed by Ledinek Engineering.
A PC based master computer system for production management, production flow control and visualization, statistics, instant information's and production analysis tools.
Company: Södra Wood
Facebook: Södragroup

Location: Väröbacka / Sweden
Project Leader: Mattias Wallman
Production Manager: Krister Norberg
Employees: 600
Species: Spruce
Operators: 3+2
Production capacity: 10,000 m³ / y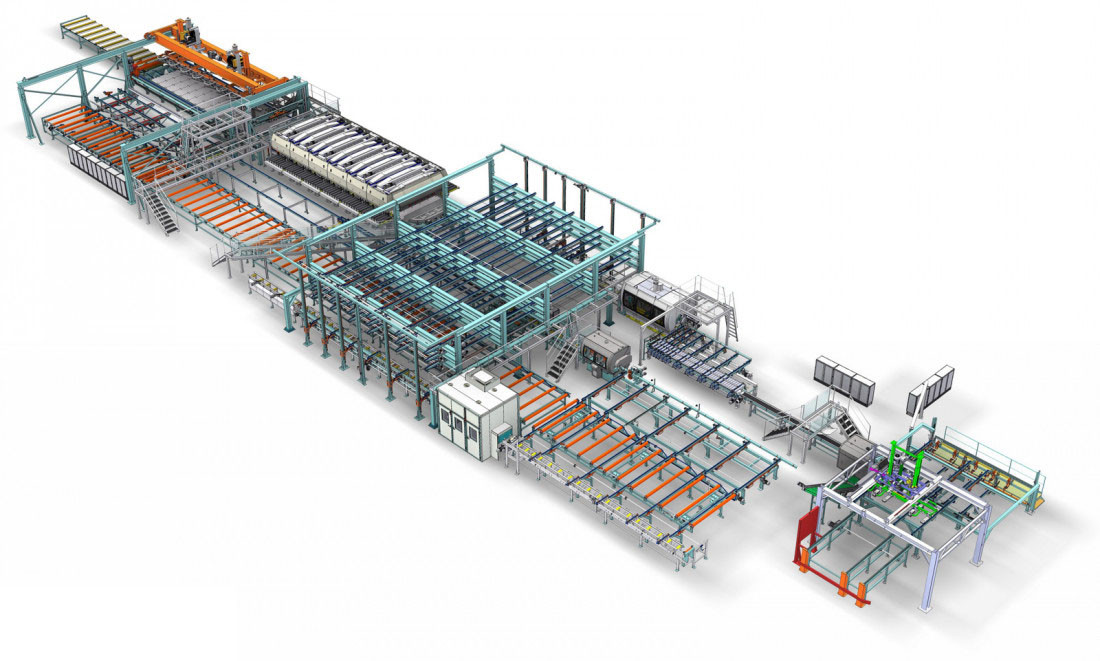 Turnkey CLT production
1. Vacuum de-stacking of timber
2. Manual marking station for timber defects
3. Reject gate for boards
4. X-CUT S200 cross-cut saw to remove timber defects
5. Infeed system to finger jointing machine
6. Eurozink COMPACT 6-300 kN finger jointing machine up to 6 pcs/min
7. Vertical conveyors to curing storage
8. Multi tray curing storage (3 levels)
9. Infeed to EUROPLAN 4V-S120 planer for laminations
10. Roll conveyor for storage of longitudinal laminations (4 layers)
11. Aligning station for longitudinal layer
12. X-CUT S200 cross-cut saw for cross layer laminations
13. Chain conveyor storage for cross layer laminations (3 layers)
14. Aligning station for cross layer
15. Vacuum layer assembly unit for Longitudinal Layer and Cross Layer
16. OEST controlled PUR (1 component polyurethane) glue application system
17. Solid fast movable PE coated aluminium table for CLT panel assembly
18. X-PRESS 12 - cross laminated timber press with up to 0,8 N/mm² pressure
19. Longitudinal CLT panel push off unit with outfeed conveyor
20. Loading ready pressed CLT panels for the CNC router
Facts
Up to 12 m x 3,0 m x 0,36 m panel size
Production capacity up to 10.000 m³/year
40 m³ Shift production
PUR glue used for higher capacity
High flexibility of the CLT production process

---