Z-Press for CLT cross layers at Stora Enso put into operation
Excellent performance and quality!
Despite Covid-19 and the consequencing difficult conditions, a complete CLT cross-layer system with a new Z-press CL was assembled on time and on schedule at Stora Enso in Ybbs. This system is specially designed for the quick and easy production of cross-layer panels. There are very few interfaces, as the system was mostly implemented by Ledinek.
The newly developed Z-press CL is also used for assembly bonding of cross-layer laminations using hotmelt glue and optionally also with white glue. Multiple widths or single-layer panels are manufactured from laminations glued on the narrow side. Such pre-glued single-layer panels are indispensable for the advanced and high-performance cross laminated timber production and thus introduce a new quality of CLT production.
Company: Stora Enso
Location: Ybbs / Austria
Project manager CLT-QL Production: Peter Strasser, Kevin Hödl
Plant manager Standort Ybbs: Werner Hatteier
Operator CLT-QL Produktion: 1
Production capacity: 40 - 140 m³ / shift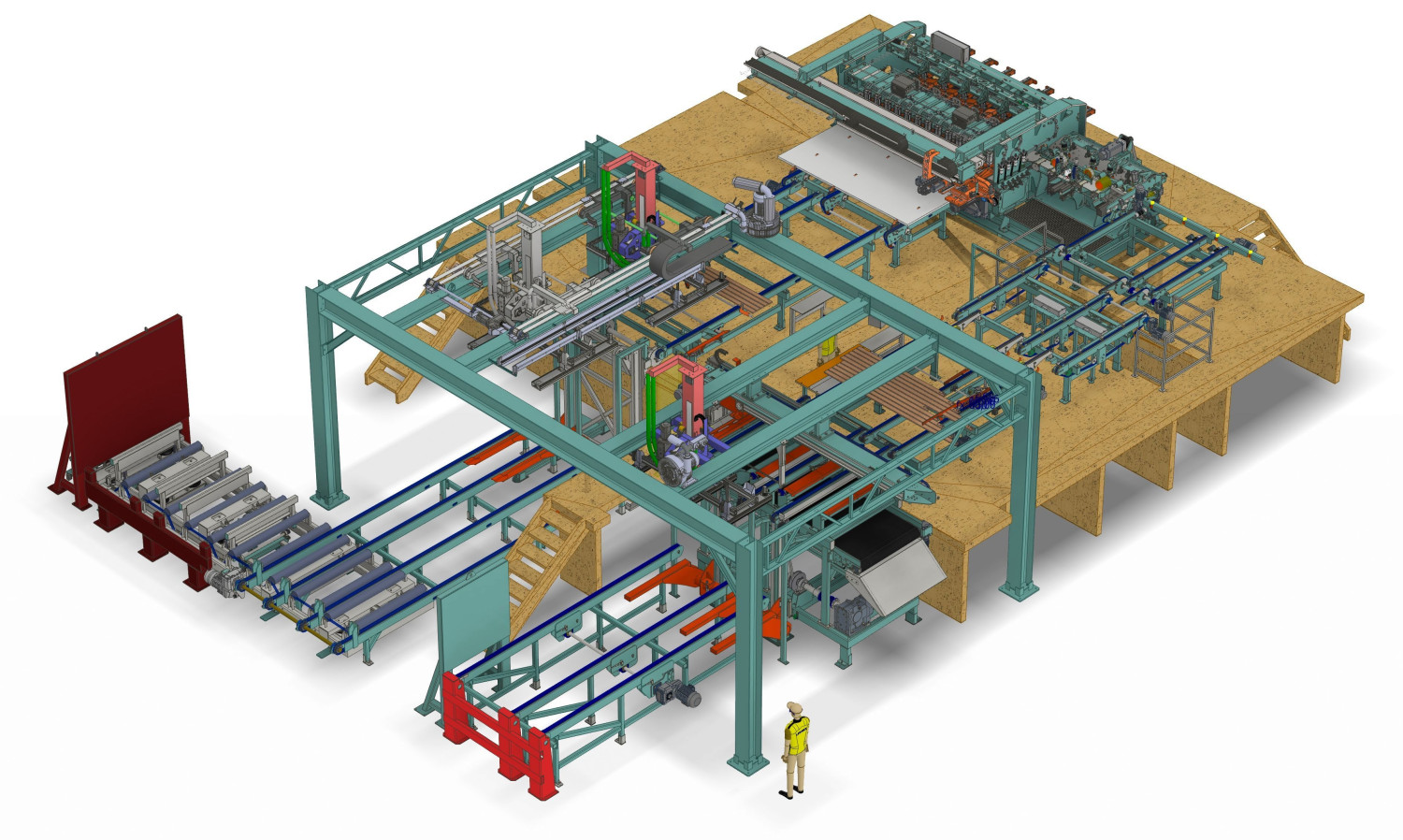 The project was monitored and followed by Stora Enso by Peter Strasser and Kevin Hödl. Together with Ledinek team led by the project managers Milan Mendas and Patrick Kornherr, the interfaces, commissioning and performance tests were carried out duly and on time. Both companies are justifiably proud of their project teams and their achievements. Ledinek thanks for the innovative opportunity and for the very good cooperation.
Congratulations to both teams!
Turnkey cross layer solution
1. Package delivery for 2 + 1 packages with forklift loading
2. Vacuum de-stacking with swiper device for removal of stacking strips with sensor recognition
3. Quality check
4. Moisture meter, reject gate
5. Optifeed – Feeding into the glue application
6. In-feed equipment with hot-melt and white glue application system
7. Z-Press for cross layer panels or double and triple laminations
8. High performance cross-cut saw for panels
9. Cross conveyor for panels
10. Vacuum stacking device for cross layer panels or double and triple laminations
11. Lifting table for packages
12. Delivery packages – cross conveyor with alignment and crane pickup
Facts
Incoming packages B=1.200 mm x H=1.200 mm
Length: from 2.000 mm to 3.200 mm
Lamination width: 80 mm to 250 mm
Lamination height: 20 mm to 40 mm
Outfeed-cross layer panels: B = 250 mm to 1.610 mm
QL-production performance: depending on the wood dimension from about. 40 m³ up to 140 m³ shift production
Fast and highly flexible cross layer production