New generation planer line to Sweden
For our long-standing customer Moelven Edanesågen AB from Sweden, part of the Norwegian-Swedish Moelven Group, which produces wood elements and systems for the construction sector, we will manufacture and deliver a new planer line for exterior elements. As part of a major investment at the Edane site in Sweden, a new production line for planing and sorting will also be built.
We were chosen as a strategic partner in this project because of our ability to provide all key equipment from our own production along with the entire design, implementation and optimization process. The new line will replace the two older lines at this site and will take over the production programme of the adjacent site. The products from this line will go to the Norwegian and Swedish markets.
Ledinek has been manufacturing the fastest planing machines for 25 years. The new generation of machines, called Stratoplan, allows four-sided planing and profiling of boards up to 300 mm wide. The new fourth generation Stratoplan, introduced this year, offers even greater profiling capacity for larger cross-sections of external profile elements.
High automation and integration and a new higher capacity machine will increase the productivity of the new line. The centrepiece of the line is the Stratoplan, with a machining speed of up to 400 m/min. The 10 spindles, combined with the integrated tool measuring and positioning system, allow short set-up times and rapid flexibility of the entire line. To improve efficiency in smaller cross-sections, the Splitcut machine, which allows horizontal cutting of workpieces into thinner boards, further increases the capacity of the line.
Due to the high processing capacity of up to two boards per second, the entire line is optimized for automatic operation, including the evaluation and sorting processes. Additional processing by profiling the ends of the boards will increase the value of the products. Stacked packages will be automatically bundled and protected.
This new line will allow faster flexibility and greater capacity for a variety of products, enabling the customer to produce high volumes of products at lower cost. The planned line will be the most powerful production line for this type of product once it is operational.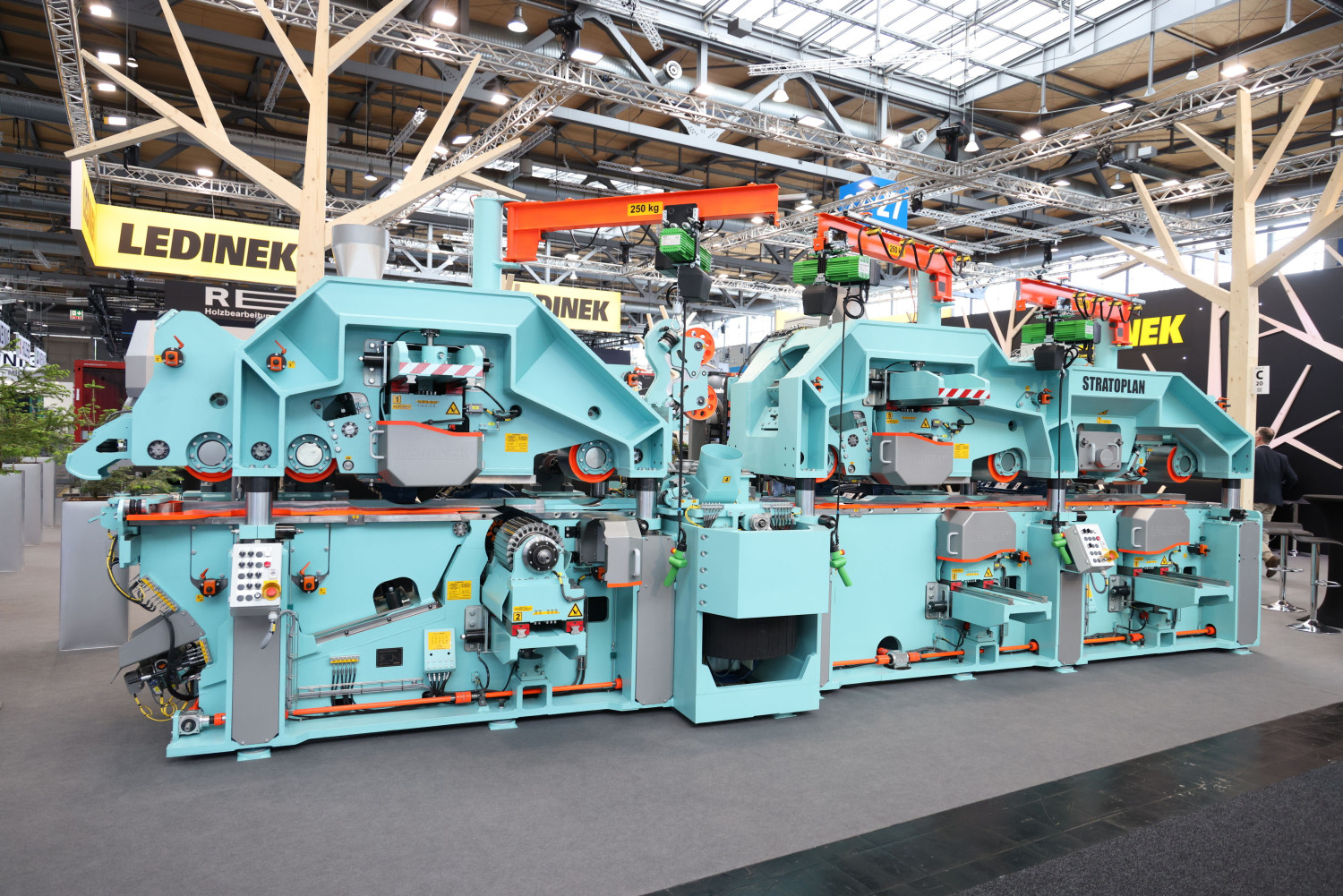 ---